Welcome to ASPEN2022
On the behalf of the Organising Committee, it is our privilege to invite you to join the 9th International Conference of ASPEN (ASPEN2022) held in Singapore from 15th to 18th November 2022. The Asian Society for Precision Engineering and Nanotechnology (ASPEN) is a union of academic and industrial societies in Asia to promote networking and collaboration among societies and to encourage research activities of young promising researchers. International Conferences of ASPEN have been held biannually since 2005 in Asian cities.
Singapore is a sunny, tropical island in Southeast Asia, off the southern tip of the Malay Peninsula. She is known as a Garden City with nearly 50 percent of green space across the island. The city is a thriving metropolis offering world-class infrastructure, a fully integrated island-wide transport network, dynamic business environment, vibrant living spaces, and a rich culture largely influenced by the four major communities (predominantly Chinese, substantial minorities of Malays, Indians, and others) with each offering different perspectives of culture, religion, food, language, and history.
Singapore has ranked among Asia Pacific's top 10 most innovative nations on the Global Innovation Index since 2014, with 80 of the world's top 100 technology companies having established a presence here1. Manufacturing is among our economy's largest industry sectors, contributing over 22% of our annual GDP in 2021, with key clusters in electronics, chemicals, biomedical sciences, logistics, transport, and precision engineering2. By 2030, our manufacturing sector is slated to grow by 50%, with a greater proportion moving towards advanced manufacturing3, as Singapore builds on our position as a Global-Asia node of technology, innovation and enterprise1
We hope this conference will offer you a good opportunity to share the latest technology developments and future R&D directions in precision engineering and nanotechnology, as well as for networking and nurturing potential collaborations in the Asian region.
Looking forward to seeing you in Singapore in November 2022.
Dr Sharon Nai Mui Ling
Singapore Institute of Manufacturing Technology, A*STAR, Singapore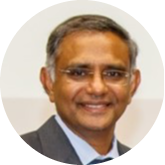 A/Prof A. Senthil Kumar
National University of Singapore,
Singapore
References
1Source: National Research Foundation https://www.nrf.gov.sg/rie2025-plan
2Source: MTI Economic Survey of Singapore 2021 https://www.mti.gov.sg/Resources/Economic-Survey-of-Singapore/2021/Economic-Survey-of-Singapore-2021
3Source: Channel NewsAsia https://www.channelnewsasia.com/singapore/singapore-grow-manufacturing-sector-50-percent-2030-430871